Profile
Best Education Courses,maths tuition,tuition centre bhayandar
About Us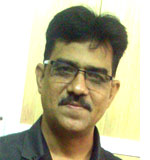 Prof. Shankar Jajoo
The Mindspace Academy is established by our Team Leader Shankar Jajoo
At Mindspace, we believe that each ward is unique individual and if properly guided and moulded then they can become future pride personals like Jawaharlal Nehru, Swami Vivekananda, more so a responsible and respective citizen of India.
The Mindspace Academy came into existence on June 2005. Initially in starting academy started providing private tuitions for State Board students ( S.S.C) i.e. personal coaching to students at their footsteps, gradually academy started coaching for other board also i.e. CBSE, ICSE and IGCSE and today it also provide coaching to XIth and XIIth Science and Engineering students.
Today we offer coaching to School Section, Junior College Section which includes Science and Commerce. In future we are also planning to include Degree College Sections i.e. B.Sc & B.Com. We are also in process to avail Professional Courses like entrance test for Medical, Engineering and Chartered Accountancy.
The Mindspace Academy believes in team work which makes it stronger and confident. No one personally can be bigger than "TEAM WORK".
This is the reason why we often keep saying that "TEAM WORK ILLUMINATE MINDS".
courses after 12th,commerce courses,Professional Courses,Engineering Professional Courses
coaching institutes centers in Bhayandar,,EDUCATION ACADEMY bhayandar,Best Education Courses,Coaching Classes bhayandar,educational insitute,Mirabhayandar,Tuition Centres in Bhayandar,coaching classes institutes,Coaching Tuitions in Bhayandar,coaching centres in Bhayandar,the mind space academy,maths tuition,tuition centre,educational institutions in Bhayandar,central board of school education,education system in india,science and engineering classes, courses after 12th,commerce courses,Professional Courses,Engineering Professional Courses,coaching institutes in miraBhayander,coaching classes in miraBhayander,8th 9th and 10th Coaching Best Education Courses,maths tuition,tuition centre bhayandar,classes institutes, education classes,institutes academy, educational academic classes, academic topper classes, topper institutes,topper classes in bhayandar, central board of classes